67 Places to Find Writing Jobs Online in 2017
There are a lot of people looking for writing jobs online right now. Most people who are looking to build a career around working for themselves or working remotely are doing it. Hell, even I do it, as a freelancer myself.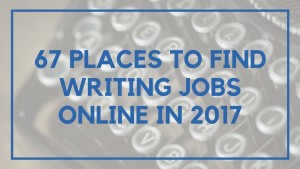 But, for many, this can be the big sticking point. They know they want to write, but they don't know where to start.
And there's lots of conflicting advice out there. Read 10 sites and you'll probably get 10 different opinions. Yes to UpWork, NEVER to UpWork, don't use job boards, job boards are awesome…
And so on.
The thing about getting these jobs is there is no one good answer. Probably not what you want to hear, but it's true. What works for me, or Sean or Marco might not work for Stef or Julie or Pedro, and vice versa.
What I have found is that great pitches and persistence can pay off. (If you want some tips on improving your pitching, I recently wrote this post with tips.)
Sometimes the slow drum beat of consistency, keeping lots of irons in the fire, and luck can come into play just at the right time. But, being a good writer, with a good portfolio, and a great pitch is going to help.
So never stop trying to improve those.
In this post, we want to keep it simple. This is a list of sites you can use, right now, to find writing jobs online. So, if you've been struggling with where to find potential writing gigs, save this post.
Job Boards
You might hear people poo-pooing job boards. A lot of it is about due diligence. But there are some actual quality boards out there that tend to post good gigs more often than not, so that's what this list is for.
I've personally gotten some very good long term clients off some of these sites. So they can work for you too.
ProBlogger Job Board – You'll often find lots of higher profile sites on here looking for blogging content.
UpWork – You hear a lot of conflicting views about this site, but if you dig deep and work your pitch, you can find lots of potentials.
Blogging Pro Job Board – As with ProBlogger, you'll find lots of copy and content gigs here from more established brands.
We Work Remotely – This site has lots of jobs covering everything from writing to programming and web design.
Freelancer – Another big job board that covers everything from writing to app design, but specifically geared towards freelancers.
nDash – This site has a database of companies who are looking for writers, you pitch your ideas and go from there.
LinkedIn Profinder (US only) – I've been able to nab a few high paying quality clients off Profinder.
LinkedIn Jobs – Don't forget there's a job feature to LinkedIn, most are full-time but you can also apply and pitch yourself as a remote worker.
Contently – They don't have updates posted as frequently as some other sites, but Contently does typically feature higher paying writing jobs.
Freelance Writing Gigs Job Board – You'll see a number of these jobs on some of the other big boards but there are new ones on here too.
Creative Circle – You might think staffing brands can't help you find creative or writing jobs, not true with Creative Circle.
Canadian Freelance Writing Jobs – While you don't have to be Canadian to apply, there are lots of listings on here.
All Freelance Writing – Another smaller list of jobs but it's nice you can see the pay range of each right from the jump.
The Writer's Job Board – This site pulls in a number of flexible, remote, and part time writing jobs in a variety of fields.
HubStaff – HubStaff is relatively new, the brands are there with gigs and you submit your pitches, there is no bidding, and you set your rates.
Paid Sites
There are a few very good job boards out there that are protected behind a paywall. Some of these are strictly job boards while others are more like membership sites for writers that have job board perks.
Typically, these will spend much more time curating high-quality posts, so you won't find a lot of bad jobs on here.
Freelance Writer's Den – Carol Tice of Make a Living Writing runs this job board so you know it only has high-quality posts.
Freelance Success – The forum is the big feature here, but being a member includes a newsletter that features quality listings.
Travel Blog Success – This membership site and job board is geared towards travel writers so if that's your jam, check it out.
FlexJobs – You can search for free on FlexJobs but to get access to the good stuff, the paid feature provides a lot more information.
Contenta – Currently closed, but will be opening soon for new members again (ask to be put on the waiting list). It curates a bunch of writing jobs from all over the web.
Social Media
Don't forget about social media! I keep track of a number of accounts on Twitter because you never know where something that's perfect could pop up!
I also follow lots of influencers in my field too. They will also often share job postings from their sites or friend's sites on their social media accounts.
Lastly, you can even do a Twitter search, try searching: "we're hiring," "work with us," or "job posted" to start.
@write_jobs
@FLW_jobs
@writingjobsgigs
@tmj_bos_writing (find your city with @careerarc)
@onlinewritejobs
@Write This Moment
@remote_ok
Also, don't forget there is always the potential to offer your services inside any Facebook groups you join. Remember, don't spam, become a part of the community, offer value, and then showcase your skills.
Follow the tips Olivia lays out for making the most of Facebook groups, in this post.
Sites that Pay for Guest Posts
You can also get your feet wet doing guest posts. These are not only great to build up your brand, but some sites actually pay for posts too.
Now, you're not going to get rich pitching these sites, but you might catch a good break down the road. The key with these is to read the instructions. It's all there.
Unfortunately, way too many people ignore the directions and plow forward. I know this because I get multiple emails a week from people who don't read the directions on our write for us page and then don't get their pitches accepted.
Read these pages a few times and then craft your pitch. Getting an accepted post on any of these sites can be a nice boost to your freelancing career.
For the sites below, most have their pay rates right on the page. Others will offer payment for really high-quality stuff.
The Write Life
Make a Living Writing
Matador Network
B2B Writing Success
The Expeditioner
Listverse
WiseBread
Writer's Weekly
Just Parents
A List Apart
The Penny Hoarder
Funds for Writers
Viator Travel Blog
Metro Parent
Layout by Flywheel
Online Writing Jobs
Dorkly
A Fine Parent
Rank Pay
Income Diary
Narratively
Book Browse
Digital Ocean
The Partially Examined Life
International Living
Fund Your Life Overseas and Incomes Abroad
ToolsQA
ScheduGram
Technopedia
Theme Park Tourist
Doctor of Credit
Horse Network
Yoga International
Cracked
Curbly
Unless they specifically spell out that there is no payment for posts, you don't know. So when you do send in your pitch, it never hurts to ask.
I recently had a pitch accepted for a guest post on a site that didn't mention payment at all. After the post was published, the editor reached out and asked me where he could send a check for the post.
Even More Sites
Some of these don't fit neatly into the categories above, but I still think they are really useful. So, check out a few of them and see if they are a good fit for you.
@whopayswriters – A good look at the sites out there that pay freelancers and how much they actually pay per word or project.
Get Apprenticeship – Taylor Pearson created this site for people who are looking to embrace the apprenticeship model, lots of potential here.
92+ Websites that Pay Writers $50+ – Check this list from Make a Living Writing, it is from 2016.
34 Travel Magazines and Websites that Pay Freelance Writers – This list from The Write Life should be must read for aspiring travel writers.
Location Rebel Academy – Sure, we'll pitch ourselves. We've got a member's only job board and we do post up remote gigs we see floating around online.
Cold Pitches
Oh yea, that. The cold pitch.
All in all, when you mine for writing jobs through reaching out directly, you have the potential for a higher quality client.
If you've been thinking about getting into business to business (B2B) writing, then get very friendly with the cold pitch.
For more tips on cold pitching, sign up below:
Final Thoughts
Well, there you have it. If you've been struggling with where to find more writing jobs online, hopefully, this will help.
Keep all of these sites and tactics in mind when you set out to search for gigs. More often than not, having lots of pitches out there over time will start to pay off.
Did we miss any secret gems? Let us know if you've got a few go-to sites in the comments.